The Invicta celebrates freedom with a programme filled with free activities for all.
"The doors that April opened, no one will ever close them again!", the verse from Ary dos Santos' poem is the motto for the celebrations of the 48th anniversary of the Carnation Revolution in Porto. The Porto City Hall and the commission in charge of promoting the April 25th celebrations in Porto, have prepared a programme full of free activities for all, starting on Sunday.
At 10 pm, Sérgio Godinho and Coral de Letras da Universidade do Porto take to the stage at Avenida dos Aliados. Celebrating 50 years in the industry, the musician will perform some of his most recent songs, which are a part of his latest album "Nação Valente". The Coral de Letras da Universidade do Porto – awarded with the Medal of Cultural Merit by the Minister of Culture and with the Medal of Merit - Gold Grade by the Porto City Hall – conducted by José Luís Borges Coelho, will perform José Afonso's "Grândola, Vila Morena". At night, you can expect fireworks.
On April 25th, the celebrations start with a morning dedicated to the little ones. From 10 am, there are traditional Portuguese games in Praça do General Humberto Delgado. At 2:30 pm, the Porto Military Museum  hosts a ceremony to pay homage to anti-fascist resistance and the traditional "Desfile pela Liberdade" ("Freedom Parade") leaving the former PIDE building, on Rua do Heroísmo, towards Avenida dos Aliados. The two shows that close the celebrations take place there. Comvinha Tradicional will perform at 3 pm and Chulada da Ponte Velha take the stage at 4 pm.
At the same time, Associação dos Residentes da Bouça will celebrate Freedom Day with the performance of Lena d'Água, at 5 pm. The singer will perform songs from her comeback album "Desalmadamente", as well as other iconic songs of her career, such as "Robô", "Sempre que o amor quiser", "Dou-te um doce" or "Demagogia". Entrance is free, with ticket collection on the same day.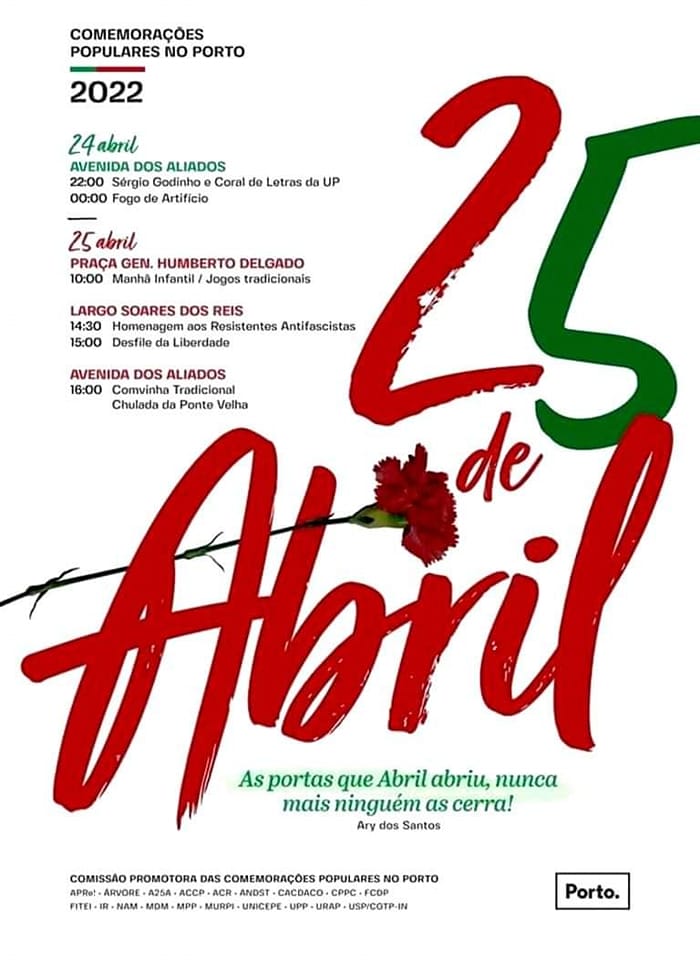 Written by Mariana Morais Pinheiro
Mais artigos