Is your Christmas gift list not ready yet? Still have gifts to buy, and not sure what to give? We have got you covered just follow our suggestions, find the perfect gift and give the city as present, from 1.50€. Hurry up, the most magical and special day of the year is almost upon us!
Are you looking for a different and unconventional gift? At Casa de São Roque you will find the perfect experience to give, from 3.50€. A visit to the Jean-Luc Moulène exhibition and a good Vinho Verde are the perfect combination for those who like to live unique moments and celebrate life.
Give fantasy and magic. Sea Life, from 7€, will delight the youngest and not just, the grown-ups will also love it. The underwater tunnel and the experience of feeding some of the animals that inhabit the aquarium will fascinate the whole family.
Give a living tradition full of history. With the Visit to the House of Filigree, from 7.50€, you can discover the art of Filigree, one of the richest arts in Portuguese goldsmithery. The technique is ancient and explained through information panels and by the hand of craftsmen, who meticulously work the silver and gold threads live.
Give part of the history and culture of the discoveries, in a space that, through multimedia and multi-sensory content, recreates the odyssey of Portuguese navigators. The World of Discoveries, from 9€, is the pefect gift for everyone!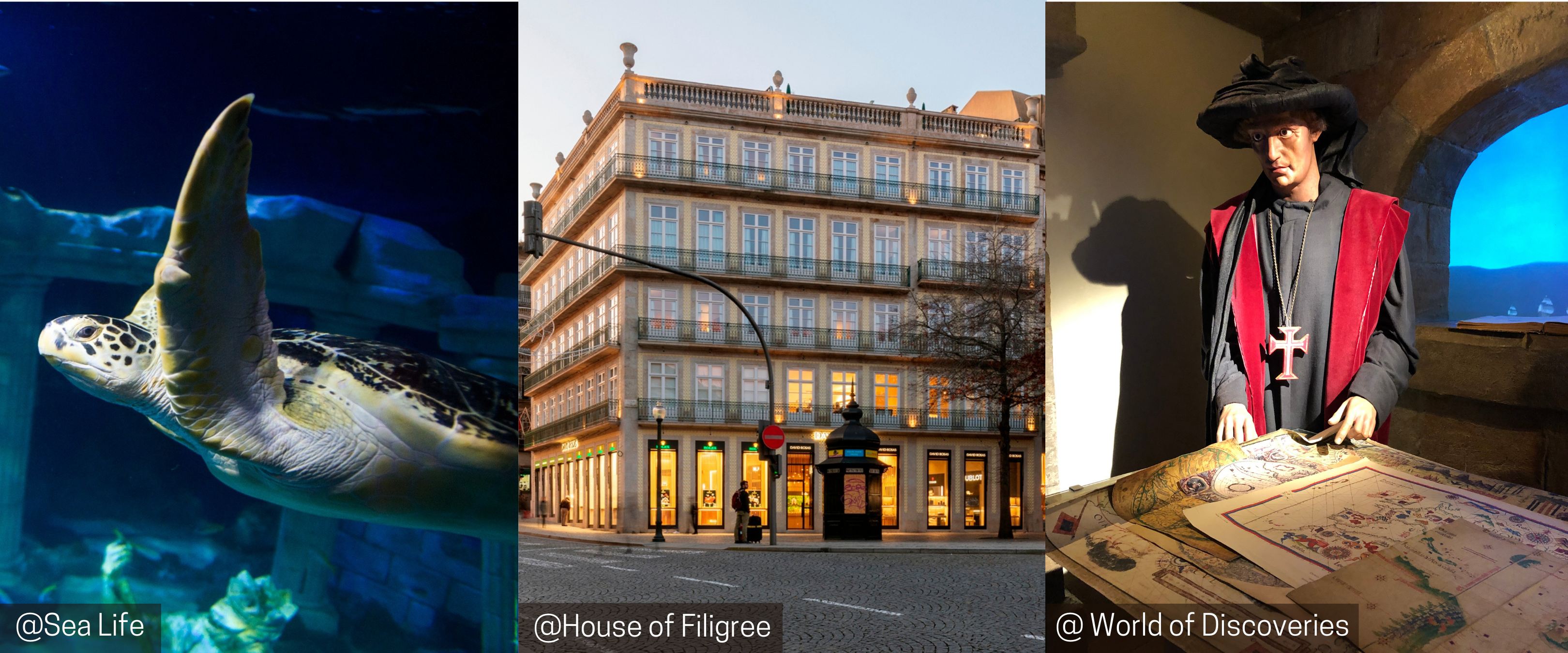 Give the history of the city and the club. The Futebol Clube do Porto Museum, brings together more than 120 years of history, taking visitors on a sensitive and innovative journey. We promise that your visit, starting at €10, will exceed all expectations!
Give nature, history and art. The Serralves Foundation blends contemporary talent with the park's greenery, which holds countless stories and experiences in each of its corners. During your visit, from 10€, take this chance to discover the Treetop Walk, the Foundation's latest attraction.
Give culture. Complete your gift list with a visit to the immersive exhibition Porto Legends, the Underground Experience, a virtual show that will unveil the history of the city, from 10€. Here, magic and mystery happen every day!
If you visit us this Christmas season, look for one of the Official Tourism Offices and take Porto in your suitcase! Give the city in a tote bag, t-shirt, mug, bottle, notepad, pin badges, pencil cases, among many others, from 1.50€. You can also purchase merchandising with the official and certified Porto. brand online.
If you are looking for an exclusive gift, at our tourist offices you will also find one of the most special gifts in filigree, from 15.75€.
Visit us this Christmas season, and find many ideas for your Christmas gifts! We are waiting for you!
Talk to us via LiveChat, by WhatsApp (+351 938 668 462), e-mail (info@visitportoandnorth.travel) or telephone (+351 93 555 7024), if you have questions.
Planeie a sua viagem
Chegada
Dotada de uma rede de acessibilidades em franca expansão é possível chegar facilmente à cidade de avião, autocarro, automóvel, barco, comboio ou metro.
História
O Porto é um dos destinos turísticos mais antigos da Europa e a riqueza do seu património artístico, o Vinho do Porto, os vastos espaços dedicados ao lazer e a sua vida cultural são apenas alguns dos motivos que convidam a visitar a cidade.
Informação Prática
Aqui encontra alguns dados essenciais sobre o Porto, bem como a referência a vários serviços públicos e privados disponíveis.
Deslocar-se
É fácil deslocar-se nos limites da cidade com recurso aos transportes públicos ou em viatura própria ou alugada.
Tudo o que precisa de saber