The main popular festival in the city of Porto is almost, almost upon us.
This year, the famous popular festival will not take place, but you must still enjoy the characteristic elements of S. João in the nooks and crannies of Invicta.
Join us in an itinerary of what you can visit and discover about the biggest festival in Porto this year, in a different way.
Manjerico
One of the symbols of S. João do Porto is the famous basil. This plant is always accompanied by a tiny flag, which contains a popular verse alluding to love. Tradition has it that boyfriends offer basil to their girlfriends as a gesture of affection or request. Take advantage of the suggestion and offer one to your girlfriend. You can find basils in various parts of the city at this time of year, such as Marquês de Pombal Garden, Alameda das Fontaínhas, Praça da Batalha, Passeio Alegre, São Bento Railway Station, among others.
Cascata de S. João
Cascatas de S. João are one of the main traditions of this popular festival. They are made by the people of Porto and tell stories and secrets of Invicta, featuring S. João. The Municipality promotes a competition of Cascatas, annually, encouraging the participation of all its residents in this tradition. You can see this year's list of participants here.
Take a walk through the streets of Invicta and be enchanted by the details that make the story of each Cascata unique!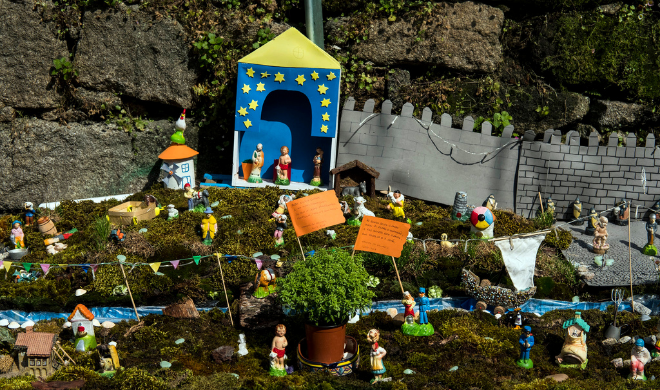 Grilled sardines
On the night of S. João, the protagonist at the locals' table is the sardine. Everyone who is in the city keeps alive the tradition of dining, with family or friends, grilled sardines. You can also enjoy this dish in one of the various restaurants in the city or, if you prefer, buy a fresh sardine at Bolhão Temporary Market and join the party.
Hammer and Leek
Two of the most popular elements of the S. João Festival in Porto are the plastic hammer and the leek. In this festivity, locals and all the visitors go out into the streets. Having in one hand, a hammer ready to wallop those who pass by. On the other hand, they carry leek, a plant used at this festival to touch and making those who pass by smell it, in a wish for good luck and fortune.
This year the usual festivities will not be allowed and as such, hammers and leeks will not be able to go out on the street as usual. We hope that they will return next year so that the festivities of S. João can also return in full.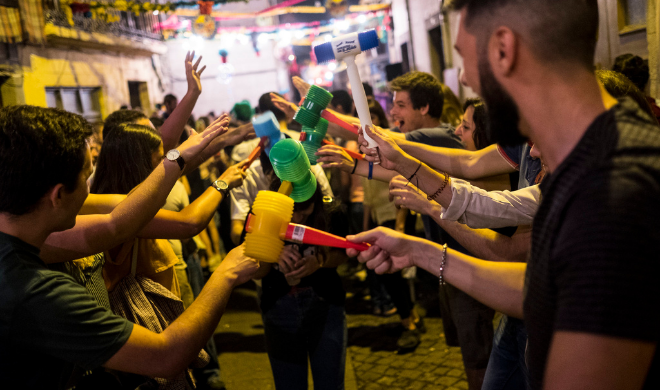 Evocations of S. João
The first references to the festivals in honour of S. João in Porto date back to the 14th century. It is a festival that features pagan elements together with religious celebration.
On the religious side, we invite you to visit the Churches and Chapels evoking S. João (St. John) the Baptist, where you can admire the art and testament of the artistic works by renowned national and international masters, namely Misericórdia Church, Igreja Conventual de S. Francisco de Assis, Sé Cathedral, Church of Clérigos, Chapel of Almas, Church of S. João Baptista da Foz do Douro, Church of Carmelitas among many others.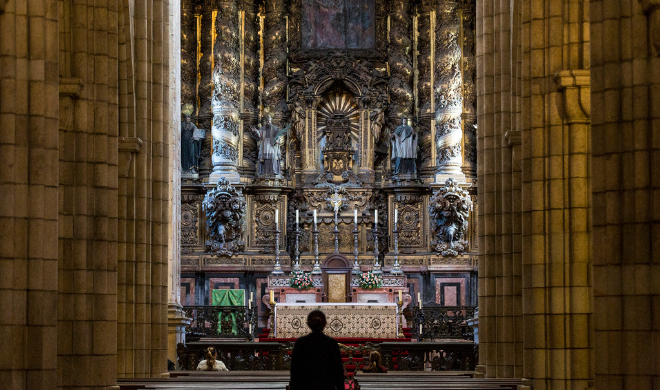 Regata de S. João
On June 24th, the official day of S. João, tradition dictates to celebrate with the Rabelos Boat Regatta, on the Douro River.
The Rabelos parade with their sails raised, on which they display the name of the Port Wine company to which they belong to, and sail in a committed struggle to win.
It is an exciting and colourful event that marks the end of the S. João festivities in Porto. Go to the bank of the River Douro and watch this event at 2 pm starting at Cabedelo and ending at Luiz I Bridge.
As this year the celebrations are different, the city of Porto offers 3 fun areas, prepared with all the safety measures to visit the city during this festive season. Here you can enjoy various amusements, food areas and lots of entertainment. Come and celebrate S. João with us in complete safety.
Visit Porto

Last updated 2021-06-18
Planeie a sua viagem
Chegada
Dotada de uma rede de acessibilidades em franca expansão é possível chegar facilmente à cidade de avião, autocarro, automóvel, barco, comboio ou metro.
História
O Porto é um dos destinos turísticos mais antigos da Europa e a riqueza do seu património artístico, o Vinho do Porto, os vastos espaços dedicados ao lazer e a sua vida cultural são apenas alguns dos motivos que convidam a visitar a cidade.
Informação Prática
Aqui encontra alguns dados essenciais sobre o Porto, bem como a referência a vários serviços públicos e privados disponíveis.
Deslocar-se
É fácil deslocar-se nos limites da cidade com recurso aos transportes públicos ou em viatura própria ou alugada.
Tudo o que precisa de saber