December arrived and with it one of the most festive time of the year: Christmas.
Porto lives and breathes the Christmas spirit in all its splendour during the last month of the year. Talk to us through LiveChat and start planning your family trip now, we have a specialised team that will help you plan a special and unique trip.
Countdown
Christmas is light, celebration, dream and hope.
In Porto, everything starts on the first day of December. The city dresses with the Christmas lights and Christmas spirit, from Rua de Santa Catarina to Rua das Flores. The entire Historic Centre is lit up.
But it is not only on the city streets that the Christmas spirit comes alive. Also, on December 1st, most of the houses in Porto take out the tree, lights, wreaths, nativity scene from the storeroom and, together with their families, welcome Christmas.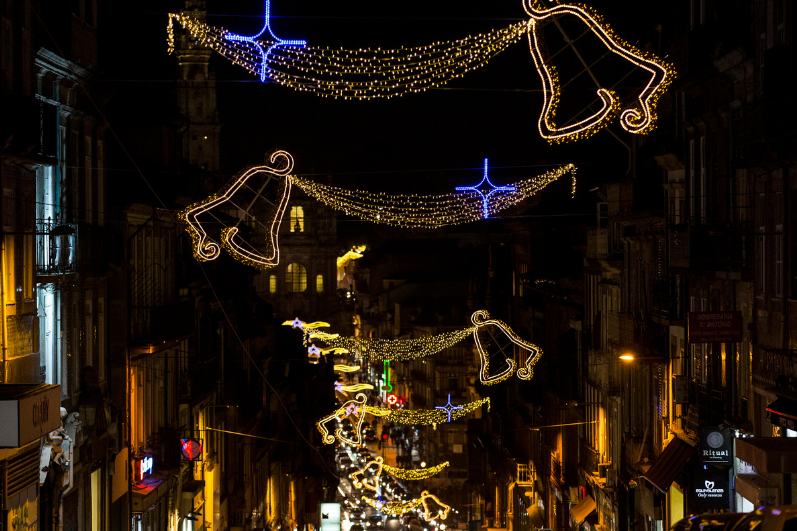 The flavours of Christmas
Once the Christmas spirit is released in the city, people from Porto like to live this season to the fullest, and Christmas food are a most.
The Christmas Eve supper has a protagonist: the salted codfish. In Porto's houses, the family gathers around a big steak of boiled cod, served with potatoes and vegetables, drizzled with delicious olive oil.
After having a bite, come the typical desserts, bolo-rei, pão-de-ló (sponge cake) and rabanada (French toast) savoured with a good glass of Port Wine. But these typical sweets are not only enjoyed at Christmas dinner. Throughout the month of December, people from Porto like to taste Christmas flavours in various places in the city. For example, you can visit Confeitaria Petúlia, Padaria Ribeiro and Confeitaria Tavi to taste a delicious slice of bolo-rei or pão-de-ló. If you are curious to taste the famous rabanada, there is no better place than the iconic Café Majestic.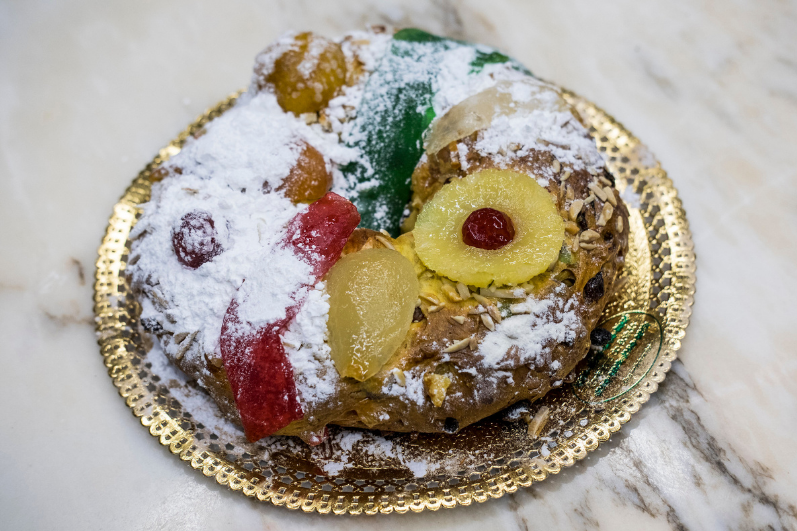 Shops at Christmas
The streets and houses of Porto are not the only places in the city that breathes Christmas. Porto's traditional shops open their doors to this festive season in all its splendour.
Annually, Porto City Hall holds a Christmas Window Displays competition to all its traditional and high street stores. Which is always well received by people and gives rise to strolling the streets of Porto with all the shop windows festively decorated this festive season. Each shop window display tells a story, a very unique version of Christmas in typical Porto products.
Entering the city's many historic shops you can find everything you need for your Christmas dinner or even gifts for the children.
Image: Filipa Brito
Christmas markets
All over the city, the markets come alive and bring joy to the city's gardens and squares. Here, the protagonists are handmade and traditional products, not only from the city of Porto, but also from the Northern region of Portugal. It is a combination and homage to what is, naturally, from Porto and Portuguese. Visit one of these spaces and carry with you a souvenir and a little piece of Porto:
Stay tuned to our Cultural Agenda, we'll have more news soon!
Are you ready to get on this journey and live Christmas Porto style, like a true portuense?
Visit Porto

Last updated 2022-12-06
Planeie a sua viagem
Chegada
Dotada de uma rede de acessibilidades em franca expansão é possível chegar facilmente à cidade de avião, autocarro, automóvel, barco, comboio ou metro.
História
O Porto é um dos destinos turísticos mais antigos da Europa e a riqueza do seu património artístico, o Vinho do Porto, os vastos espaços dedicados ao lazer e a sua vida cultural são apenas alguns dos motivos que convidam a visitar a cidade.
Informação Prática
Aqui encontra alguns dados essenciais sobre o Porto, bem como a referência a vários serviços públicos e privados disponíveis.
Deslocar-se
É fácil deslocar-se nos limites da cidade com recurso aos transportes públicos ou em viatura própria ou alugada.
Tudo o que precisa de saber