Pilgrimages to Santiago de Compostela began with the discovery, at the beginning of the 9th century, of the tomb of Apostle James in the Forest of Libredón, now Santiago de Compostela. With the recognition by Afonso II, O Castro (The Chaste), who pilgrimage centres in Christendom. Each way chosen by a pilgrim, from the starting point to the Apostle's tomb, is a Way of Saint James however, the ways that are defined as such are the main roads of that time, large part legacies of the Roman presence in the peninsula and which, for practical and safety reasons, were chosen by most pilgrims. The Portuguese Way, and its different itineraries, is one of the ways that ends directly at the Compostela cathedral.
In general, in Portuguese territory, the elements that identify the Ways of St. James are the parishes dedicated to Saint James, their settlement along the pilgrimage routes and the chapels built in his honour, as well as bridges, fountains, stone crosses, statues of the Apostle, devotional confraternities. Monasteries associated with the pilgrimage of St. James, heraldry, place names, feasts and legends.
From the city of Porto there are three Compostela ways: Central or Main Portuguese Way, the Portuguese Way via Braga and the Coastal Portuguese Way.
Jacobean Year 2021 | 2022
The Jacobean or Xacobeo (in Galician) is a very important feast in Spain, taking place whenever July 25th (Saint James' Day) falls on a Sunday. As it depends on a very specific calendar and because it is the feast of the patron saint of Spain, it is an occasion that is long awaited by everyone, and can take between 5 and 6 years to repeat itself.
In the year 1126, Pope Callixtus II granted the forgiveness of all sins to any pilgrim who completed the way of Saint James, in a year in which the Jacobean occurred. As it is a tradition that continues to this day, these special years lead even more pilgrims to travel one of the many ways to Santiago de Compostela.
Due to the pandemic situation experienced a little all over the world during 2021, the Xunta decided to extend the festivities. Pope Francis himself has authorised the Holy Year 2021 to be held over two years. Thus, for the first time in history, the Jacobean will be held in 2021 and 2022.
If you are thinking of doing the Way of Saint James or have always dreamed of doing it but haven't had the opportunity yet, we recommend that you do it in 2022. Depart from Porto towards Santiago de Compostela and enter the Cathedral in the Jacobean year, thus concluding your Way in a different and special way!
Take this chance as the next Holy Year will only happen in 2027 and 2032!
Route through Vila Nova de Cerveira and Valença - 258 Km
The Coastal Way is characterised by the mixture of a sea and overland component. The use of this pilgrim way is essentially related to the fact that journeys by sea were quicker and less exposed to the perils of overland routes and, as a result, they were popular. These sea routes followed the commercial cabotage routes along the Portuguese Atlantic coast, which many pilgrims, a lot of which foreigners, used to travel from Lisbon to the ports of Aveiro, Porto and Viana do Castelo, from where they continued by land to Santiago de Compostela.
The form of the so-called Coastal Way, in similarity to most of the Jacobean routes, is structured around the point of departure of the pilgrim and the personal choice of route to follow. Of course, pilgrims set off for Compostela from Portugal's Atlantic coast. On the North, the original route really ran inland through the current municipality of Póvoa, and the village of Amorim, where a parish dedicated to St. James still exists. From there, the route followed on to Barca do Lago (near Esposende) heading to Viana do Castelo.
Stages
Porto > Maia - 12 km
Maia > Póvoa do Varzim - 15 km
Póvoa do Varzim > Esposende - 20 km
Esposende > Viana do Castelo - 25km
Viana do Castelo > Caminha - 29 km
Caminha > Vila Nova de Cerveira - 20 km
Vila Nova de Cerveira > Valença/Tui - 15 km (more 4 Km to cross the Valença bridge to Tui)
Valença/Tui > Redondela - 34 km
Redondela > Pontevedra - 18km
Pontevedra > Caldas de Reis - 23Km
Caldas de Reis > Pádron - 19 km
Pádron > Santiago - 24 km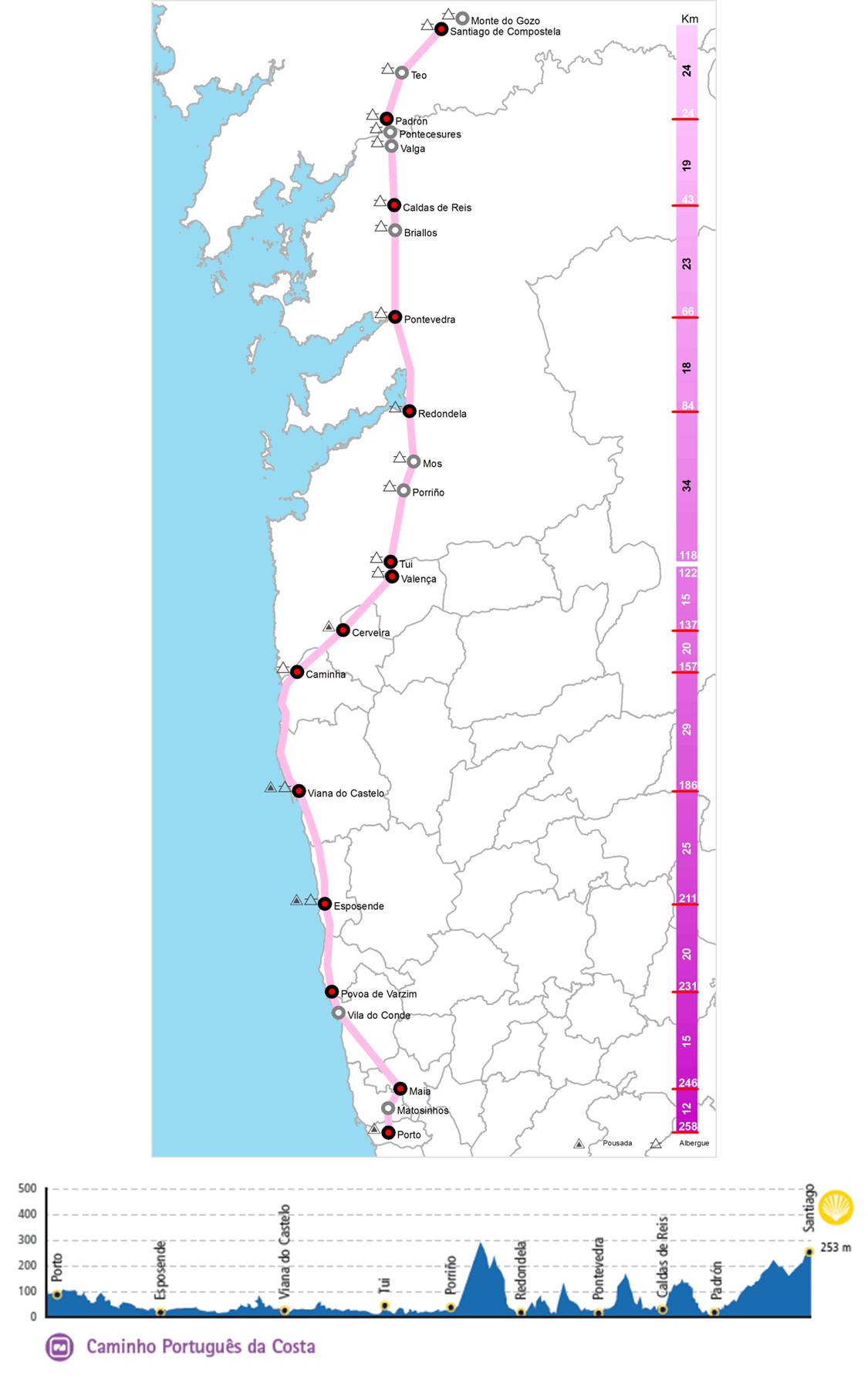 Map of the Coastal Portuguese Way – Route through Vila Nova de Cerveira and Valença
Alternative route through A Guarda - 253 km
This was a less used route travelled by some pilgrims who used the commercial sea routes into Portugal. Once on Portuguese soil, they followed the coastal routes to Santiago de Compostela. Along this coastal route can still be found some place names, pilgrim shelters and Jacobean iconography that confirm the use of a coastal trail to Santiago de Compostela. The route from Porto ran through Vila do Conde and Esposende. Pilgrims could also embark at Viana do Castelo and Caminha and travel to the Galician border by crossing the River Minho in the direction of A Guarda, from there continuing on to O Rosal, Oia, Baiona, Nigrán and Vigo. Then they headed towards Redondela, joining the Central or Main Portuguese Way.
Stages
Porto Matosinhos > Maia – 12 km
Maia > Póvoa do Varzim – 15 km
Póvoa do Varzim > Esposende – 20 km
Esposende > Viana do Castelo – 25km
Viana do Castelo > Caminha – 29 km
Caminha >A Guarda(Ferry) – 4km
A Guarda > Oia – 12 km
Oia> Baiona – 18 km
Baiona > Redondela – 34 km
Redondela >Pontevedra – 18km
Pontevedra > Caldas de Rei – 23 Km
Caldas de Rei >Padrón – 19 Km
Pádron> Santiago de Compostela – 24 Km
Map of the Caminho Português da Costa (Coastal Portuguese Way) – Route through A Guarda
Porto
The Caminho Português da Costa begins in (13) Praça da Ribeira (pre-14th century), the point at which travellers crossing the Douro River would arrive.
From here, go up Rua dos Mercadores, Rua da Bainharia, Rua de Sant'Ana, and Rua de S. Sebastião to reach Morro da Sé. With the Cathedral behind you, go down the Cathedral steps, alongside the (15) Casa da Câmara (old City Hall - 14th-15th centuries, rebuilt in 2000 by the architect Fernando Távora) towards Rua Escura, where the Chapel of N.ª Sr.ª do Ferro used to stand (demolished in 1928).
From Rua do Souto, which starts where Rua da Bainharia and Rua dos Pelames meet, crossing Rua Mouzinho da Silveira and Rua das Flores and then going up Rua dos Caldeireiros, the route heads towards Porta and Campo do Olival and Cordoaria (now Campo dos Mártires da Pátria) before continuing along Rua de Cedofeita, Rua do Barão de Forrester, Largo da Ramada Alta and Rua de Nove de Julho.
Crossing Rua de Egas Moniz and Rua da Constituição brings you to the square Praça do Exército Libertador, with its (10) Cross of Senhor do Padrão. Follow Rua do Carvalhido and Rua do Monte dos Burgos as far as the ring road- Estrada da Circunvalação. The route carries on along the old Porto/Vila do Conde road, Rua do Seixo, before arriving at the Cross of Padrão da Légua.
Porto map showing the route in the city corresponding to the Coastal Portuguese Way
Watch here the short promotional, themed video, specially dedicated to the Ways of Saint James that cross the city.
Accomodation
Due to the Covid-19 outbreak, we advise you to previously contact each one of the hostels.
Rua Barão de Forrester, 954
+351 220 140 515 / 912 591 321

info@albergueperegrinosporto.pt
Albergue do Peregrino - Nossa Senhora do Rosário de Vilar
Rua Arcediago Vanzeller, 50
+351 226 056 000
Rua Paulo Gama, 551
+351 226 163 059
porto@movijovem.pt
Albergue de Peregrinos S. Tiago de Labruge (Vila do Conde)
Rua de Labruge 1720
+351 229 284 686 / 961 180 256

alberguesantiagolabruje@gmail.com

24 beds
14h - 22h
Donativo
Albergue de Peregrinos de S. José de Ribamar (Póvoa Varzim)
Av. Mouzinho Albuquerque, 32
+351 252 622 314 / 911 527 698

albergueribamar@gmail.com

36 beds
14h - 20h
Donativo
Albergue Santa Clara (Vila do Conde)
Rua 5 de Outubro, 221
+351 252 104 717

alberguesantaclara@cm-viladoconde.pt

25 beds
15h - 22h
7,50€
Albergue de S. Mamede (Vila Chã, Vila do Conde)
Travessa do Sol
+351 934 379 460 / +351 229 370 818

jf-vilacha@iol.pt

20 beds
14h - 21h
5€/7€
Albergue S. Miguel (Marinhas/Esposende)
Avenida S. Sebastião
+351 967 611 200

adm.geral@cvpmarinhas.org

34 beds
14h - 22h
5€/7€
See HERE alternatives for overnight stay in the municipality.
Pousada de Juventude Foz do Cávado (Fão/Esposende)
Alameda do Bom Jesus
+351 253 982 045

ofir@movijovem.pt

91 beds
8h – 24h
12€/80€
Albergue de São João da Cruz dos Caminhos (Viana do Castelo)
Rua do Carmo, 1
+351 258 822 264

albergue@carmelitas.pt

100 beds
8:15 - 19:00
6€/12,50€
Pousada de Juventude de Viana do Castelo
Rua de Limia
+351 258 838 458

vianacastelo@movijovem.pt

70 beds
00h–24h
12€/62€
Albergue de Caminha
Av. Padre Pinheiro
+351 914 290 431

alberguedecaminha@caminhosantiagoviana.pt

32 beds
14h – 22h
6€
Pousada da Juventude de Vila Nova de Cerveira - Estrada Nacional 13
E.N. 13 - Rua Alto das Veigas
+351 251 709 933

cerveira@movijovem.pt

60 beds
8h – 24h
12€/47€
Albergue S. Teotónio (Valença)
Rua José Maria Gonçalves, 10
+351 918 234 938

alberguevalenca@gmail.com

50 beds
15h - 20h
5€
At the Youth Hostels (Albergues), when booking, you should inform that you are a pilgrim. It is not necessary to have the Youth Hostel Card, but only to present your Pilgrim Passport. If you choose to stay at an accommodation unit you should identify yourself as a pilgrim ans present the credential as in some cases there might be a reduction on the price.
Booking accommodation and support along the way:
Portugal Green Walks ( Tourist Operator Specialized in the Ways of S. James)
+351 936 077 462
Local tourist information
Maia
+351 229 444 732

turismo@cm-maia.pt
Vila Conde
+351 252 248 473

turismo@cm-viladoconde.pt
Póvoa de Varzim
+351 252 298 120

pturismo@cm-pvarzim.pt
Esposende
+351 253 961 354

pit.esposende@portoenorte.pt
Viana do Castelo
+351 258 098 415

vianawelcomecenter@gmail.com
Caminha
+351 258 921 952

turismo@cm-caminha.pt
Vila Nova de Cerveira
+351 251 708 023

turismo@cm-vncerveira.pt
Valença
+351 251 823 329

turismo@visitvalenca.com
Transport Porto-Santiago Compostela
Bus - Rede Expressos
Train - CP
Backpack Transport
+351 220 179 675
+351 913376056
santiagobackpackexpress@gmail.com
Credential
The credential can be acquired in Porto's Cathedral, Terreiro da Sé.
Câmara Municipal do Porto

Last updated 2022-12-06
Planeie a sua viagem
Chegada
Dotada de uma rede de acessibilidades em franca expansão é possível chegar facilmente à cidade de avião, autocarro, automóvel, barco, comboio ou metro.
História
O Porto é um dos destinos turísticos mais antigos da Europa e a riqueza do seu património artístico, o Vinho do Porto, os vastos espaços dedicados ao lazer e a sua vida cultural são apenas alguns dos motivos que convidam a visitar a cidade.
Informação Prática
Aqui encontra alguns dados essenciais sobre o Porto, bem como a referência a vários serviços públicos e privados disponíveis.
Deslocar-se
É fácil deslocar-se nos limites da cidade com recurso aos transportes públicos ou em viatura própria ou alugada.
Tudo o que precisa de saber