Music is for everyone and so is this House.
Music is for everyone and so is this House. In the heart of the 2001 European Capital of Culture, Porto stands out from the other cities by housing the first ever Portuguese building exclusively dedicated to Music.
This international tribute created a space with personality where, for more than a decade, delightful concerts and the most wonderful chords can be heard.
From concerts most popular with music scholars, to young talent auditions and clubbing with "intense urban music nights", there is music for all tastes and the schedule is full all year long.
Architecture on behalf of Music
If the exterior of Casa da Música has a peculiar and unusual shape, as if it's a giant diamond found by Dutch architect Rem Koolhaas, its interior was also designed in detail and rated as having one of the most amazing concert halls ever seen, with a capacity of 1,238 people.
Two years after the inauguration of the House (which occurred on April 15, 2005), the award granted by the Royal Institute of British Architects (RIBA) designated the building as "intriguing, disturbing and dynamic", making it very newsworthy and winning over many hearts.
The various rooms can be perfectly adapted to your needs, for all types of concerts, by adjusting the position of the stage, the lighting and even the audience. There are 22,000 m2 to serve the most universal art form of all, music. The combination of large windows with tiles and other decorative elements make your visit an unparalleled radiant experience.
Every detail is a creation in and of itself and nothing was left to chance, in this "architectural adventure".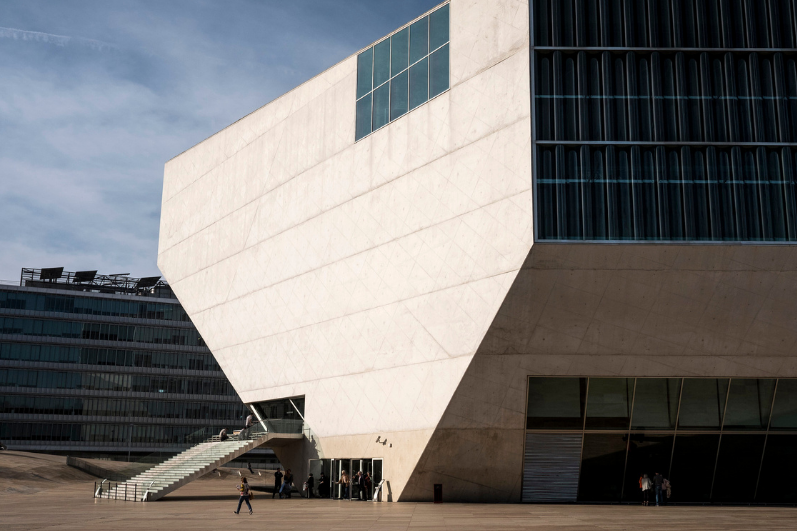 Well-orchestrated dinner concerts, training sessions and workshops
Feel inspired while walking through this spacious building, starting on the terrace with a view of the fantastic city of Porto, passing through the foyers and bars, going up and down the futuristically illuminated stairs.
Then, get comfortable in one of the auditoriums and enjoy the experience. If you prefer, arrive early and start by indulging yourself at the Restaurante Casa da Música, where they serve signature cuisine inspired by the world. And, save the best for last – the show itself - returning to the bar during intermission for a refreshment.
The various rooms themselves host shows and concerts, workshops and teaching activities held for students, musicians, programmers, teachers and anyone who wants to learn new skills.
A few hours well spent with the best professionals can help you work on improvisation, interaction and even leadership. Thus, there is a place for everyone.
The House's artists
The artists who perform here and hold training sessions come from all over the world. They bring their instruments and knowledge and, with each performance, disclose their rich instrumental, vocal and human portfolio.
As the artists are residents, you can experience the Symphonic Orchestra of Porto, the House of Music Choir, Remix Ensemble, the Baroque Orchestra and musical personalities that give life to this House during the season.
Thursdays, Fridays, Saturdays and Sundays are the busiest days on the cultural calendar, where all the best create and share their music with the public.
Creative details around the city
Lovers of creation and beauty are not indifferent to what the city of Porto has to offer, in terms of architecture.
From the extensive and central Avenida da Boavista, where Casa da Música is located, walk through the city with your head up, bring your senses with you and enjoy the artistic details of the monuments, statues, bridges, houses, gardens and tourist accommodations.
Porto is a city that is becoming increasingly younger, attracting visitors from all over the world because of its identity, dynamism, openness to new and contemporary things, and its space for artistic creation. Come be a part of it. You already know we're here to help.
The road of the arts is long and we can take you to amazing places. Contact us and we will help you find the best experiences in the city of Porto and the northern region of Portugal.Sundays are the busiest days on the cultural calendar, where all the best create and share their music with the public.
Visit Porto

Last updated 2022-12-06
Planeie a sua viagem
Chegada
Dotada de uma rede de acessibilidades em franca expansão é possível chegar facilmente à cidade de avião, autocarro, automóvel, barco, comboio ou metro.
História
O Porto é um dos destinos turísticos mais antigos da Europa e a riqueza do seu património artístico, o Vinho do Porto, os vastos espaços dedicados ao lazer e a sua vida cultural são apenas alguns dos motivos que convidam a visitar a cidade.
Informação Prática
Aqui encontra alguns dados essenciais sobre o Porto, bem como a referência a vários serviços públicos e privados disponíveis.
Deslocar-se
É fácil deslocar-se nos limites da cidade com recurso aos transportes públicos ou em viatura própria ou alugada.
Tudo o que precisa de saber